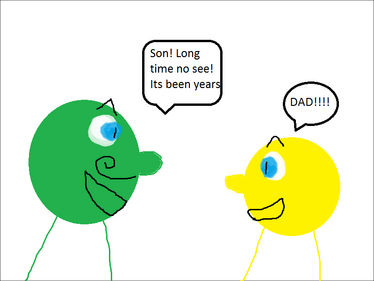 Pac-Man Meets His Dad is an episode of
Pac-Man: The Adventure Begins
. The episode was going to be a part of the series but was canceld.
In its history Pac-Man has never seen his father sense he was 6. Its been years because his dad had go fight in a ghost war. Wile in his high school days Pac-Man's green tutor (unknown name) had to teach him how to protect Pac-World from the ghosts. One day Pac-Man was dreaming on if his dad might come back from the war. After the war Pac-Man's dad whos name was Luigi (not to be confused by Mario's brother) Tried to think of a way to get back to Pac-World. He tried bullsye the horse (from Toy Story) 1st but it didnot work. Then he thought of riding on the Road Runner but he was still to young. He tried a train but the train was The Little Engine That "Can't" & failed. It took some time but Luigi Pac made it back to Pac-Land. Pac-Man was exited to see his dad & they got to do lots of things they never done before. It was a great memory in life for Pac-Man.
Ad blocker interference detected!
Wikia is a free-to-use site that makes money from advertising. We have a modified experience for viewers using ad blockers

Wikia is not accessible if you've made further modifications. Remove the custom ad blocker rule(s) and the page will load as expected.