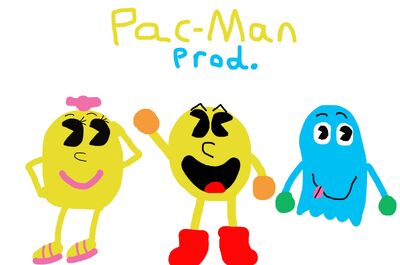 Pac-Man Productions is an American animated television series from Warner Bros. Animation based on the classic video game
Pac-Man
developt by Namco. It premiered on Cartoon Network on February 1st, 2015. It is also the third television series based on
Pac-Man
, the first two being
Pac-Man (TV Series)
, and
Pac-Man and the Ghostly Adventures
. The style of the show show is much like the
Pac-Man World
video game series and
Looney Tunes
.
This series has all the Pac-Man characters in their classic RPG game design, as well as a modified cartoonish look. Each episode of the series contains two cartoon shorts featuring Pac-Man as the main character. The show also involves Pac-Man's family: his beautiful wife Ms. Pac-Man, his adoptive teenage daughter Pac-Girl, and his 10 year old son Jr. Pac-Man. His enemies Blinky, Pinky, Inky, and Clyde appear in the series, as well as new enimies such as a green ghost named Greedy, and the Looney Tunes character Wile E. Coyote (the only non-Pac-Man character in this show). Orson from the Pac-Man World series appears in the show as well.
Voice Cast
Edit
Martin Sherman as Pac-Man and Blinky
Jodi Benson as Ms. Pac-Man
Tara Strong as Pac-Girl, Baby Pac-Man, Lucy and Yum Yum
Rob Paulsen as Jr. Pac-Man
Tress MacNeille as Ghost Witch of Netor
Corey Burton as Spooky and Professor Pac-Man
Vincent D'onofrio as Toc-Man
Kathleen Turner as Sue
Kevin Hart as Funky
Sinbad as Kinky and Tim
Scarlett Johansson as Pinky and Spunky
Stuart Milligan as Inky and Orson
James Arnold Taylor as Clyde and Wile E. Coyote
Jess Harnel as Greedy
Season One
Edit
MORE TBA
Some of the characters have changed a little bit in this series. Pac-Man for example has a Roger Rabbit-type personality, where as Ms. Pac-Man wears sandals instead of boots.
Ad blocker interference detected!
Wikia is a free-to-use site that makes money from advertising. We have a modified experience for viewers using ad blockers

Wikia is not accessible if you've made further modifications. Remove the custom ad blocker rule(s) and the page will load as expected.