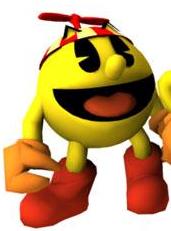 In Pacman world adventure which has a similar to Pacman world 2 and is about a messed up world for Pacman with Pacman's X- girlfriend Pac-girl.
When Blinky , Inky, Pinky , and Clyde by mistake free a liquid monster named googey It's start's taking control of all the real people that freed him (Inky, Pinky and Clyde), messes up Pacman's life It's to Pacman and Pacman jr. to team up and save the day.
Worlds and Bosses
Edit
Pac-land or Grass land~ Clyde's gaint killer frog
Magma center~???
Spectral ruins~Inky's close shave
(hidden) Canyon Crusade~ Inky's gaint killer frog
Ice moutain~ Showdown with Pinky
(hidden)Orson's factory~???
Air fleet~ The air fleet
Digital arcade~???
the final world~ The final monster
Other characters
Edit
Stage characters
Edit
(These character are importent to the world or there cameo's)
Pac-Land~Pacman Jr (Importent)
Magma center~ Erwin (Cameo)
Spectral Ruins~ King Galaxian (Cameo)
Canyon Crusade~ Pac-girl (importent)
Ice moutain~ Professor Pac (cameo)
Orson's factory~ Orson (importent)
Air fleet~Roger (cameo)
Digital arcade~Toc Man (importent)
Ad blocker interference detected!
Wikia is a free-to-use site that makes money from advertising. We have a modified experience for viewers using ad blockers

Wikia is not accessible if you've made further modifications. Remove the custom ad blocker rule(s) and the page will load as expected.